22152 Koftinow Drive, Jenner – Timber Cove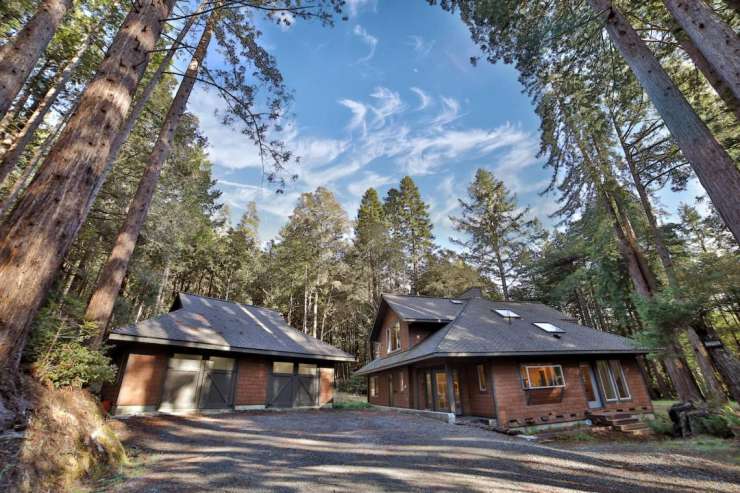 Coastal Listing
Coastal Retreat!
This immaculately constructed and maintained home is surrounded by stately redwoods, within earshot of the ocean and is protected from the coastal winds. Set on a flat lot 400 feet above sea level, more often than not the property is above the fog. Enjoy relaxing outdoors in the forest, while listening to the ocean and watching ospreys as they venture out to fish.
The abundance of windows allows one to connect with forest panoramas, and provides easy viewing of the grounds to watch children explore and play. The level 1.5 acre grounds is also ideal for great lawn games of croquet, badminton and bocce ball. A hammock would make a great addition to the yard!
Inside, the open concept floor plan is perfect for interacting with friends and family while cooking. The tile floors throughout the main level, and acrylic and butcher-block countertops make this an extremely easy home to keep clean.
The woodstove provides ample heat, but the high efficiency forced air furnace is also available to take the chill off and maintain a baseline temperature while away. The stone central column is not just decorative; its mass also provides warm radiant heat!
The upstairs bath has a vintage claw foot soaking tub with new faucet hardware and a custom double sink countertop and cabinet. The closet nook and loft provide additional space to accommodate over night guests.
On warm days, open the windows and French doors… fall asleep in the master bedroom to the sounds of the ocean or unwind in the loft as you read the day away with your favorite book.
The detached garage and workshop will satisfy any serious hobbyist. With good lighting, it's own restroom and utility sink, one can stay busy with focused work for several hours.
Walking distance to beaches and coves, close to magnificent ocean views, and adventures of hiking, kayaking, abalone diving, camping and scrambling over rocks. Only 1.5 miles to the iconic landmark Timber Cove Resort where you can appreciate special events, good food, and live music by local musicians.