Serene Lakes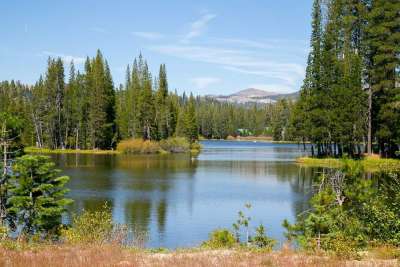 Community Profile
Serene Lakes is part of the North Tahoe area that is located in the northern Sierra Nevada mountain range in California, quietly nestled in the heart of Donner Summit. It is approximately one mile south of the town of Soda Springs and Interstate Highway 80, a major thoroughfare, linking San Francisco and Sacramento with Reno, Nevada, and Salt Lake City, Utah. It is situated 98 miles east of Sacramento, 198 miles east of San Francisco, and 450 miles from Los Angeles. Reno, Nevada is just 41 miles east by Interstate 80 and has the closest commercial airport, Reno-Tahoe International. Access to the area is a two lane paved road that is maintained by Placer County. The County, on a year-round basis, maintains all paved roads within the Serene Lakes development, including snow removal.
Serene Lakes consists of approximately 2,400 acres. There are approximately 1000 residential lots in the development with 825 private homes built, ranging in value between approximately $400,000 – $1,800,000. Lakefront homes range between $1,500,000 – $4,000,000, approximately. Most homes are "second" (vacation) homes; though several are year-round residences. The lot prices range in value between about $100,000 on the low end – $400,000 or more depending on size and location. In 2021, easily buildable lots in good locations averaged in the low to mid $200's. Lakefront lots exceeded the $1,000,000 price point in 2021.
The Serene Lakes themselves form the focal point of the development. They are spring fed Lakes of about 50 acres each, and are joined by an isthmus. The surrounding forested region has many lakes, streams, meadows, trails, paths, campgrounds, all season resorts, and recreational activities. Serene Lakes is commonly known as the "Sierra's best kept secret," because of it's natural resources and unique extremely quiet location.
History
Serene Lakes is at the heart of the most traveled route during the California Gold Rush. Originally, the two lakes were known as Ice Lakes and were used by the railroad from 1870-1927, as a source of ice for the City of San Francisco before the development of refrigeration techniques. Commercially harvested and transported by the railroad the ice was central to the community''s early prosperity.It has been said, that among the most famous visitors to Serene Lakes was the American Author, Mark Twain. Enchanted by the area he was the first to give names to the twin lakes. He called them "Serena" and "Dulzura," names that they retain to this day. The twins later became known as "Serene Lakes," which described their location and atmosphere.
Population
Serene Lakes has seen considerable growth in the last 20 years, although the community is relatively small. With increased demand and shorter supply, property values have remained strong. Many other surrounding communities have been under "Controlled Growth," governed by the Tahoe Regional Planning Agency since 1974. Serene Lakes is not in a "Controlled Growth" area.
Climate
The average rainfall is 14.8 inches and the average snowfall is 400-500 inches with winter temperature 5-50 degrees and summer temperature 65-85 degrees. The sun shines 300 days a year with the higher altitude coupled with low humidity make both low and high temperatures bearable.
Topography
Located on the western slope of the Sierra's, the elevation of Serene Lakes is between 6800 to 7200 feet. Most of the land is wooded with lodgepole pine, white fir, cedar, and tamarack, and spread over a varied terrain. Serene Lakes is surrounded by historic mountains, the Emigrant Trail, and 5 local ski resorts, including Royal Gorge Cross-Country Ski Resort which was recently purchased by the Truckee Donner Land Trust to preserve this land for future generations from development.
Check out the new website for Royal Gorge here: http://www.royalgorge.com/home
Just scroll down to see all the homes for sale in Serene Lakes.
Serene Lakes Homes for Sale

Sorry we are experiencing system issues. Please try again.